There are three great tourist towns near Lake Buchanan. Burnet is 15 miles to the east of Inks Lake. Kingsland is 6 miles south and Llano is 15 miles to the west.
RV Parks, motels, bed & breakfast inns, cabins for rent and campgrounds are available along the lake. There are several cafes near the lake: one specializes in catfish, another in good old Texas BBQ and some with Texas home-style cooking.
The lake is very popular with fishermen, boaters, campers and swimmers. The lake is so large that you will never feel crowded on the lake. There is always plenty of "elbow room" on each of the Highland Lakes. In 1995. over 1.5 million Striper Bass were stocked in Lake Buchanan. Fishing Guides are available to take you out on the lake.
There is a nice granite gravel shore around the lake providing an ideal beach for swimming, wading and sun bathing.
There is a popular winery on the west side of the lake where you can stop in for a little wine tasting and buy a bottle or two of Texas wine.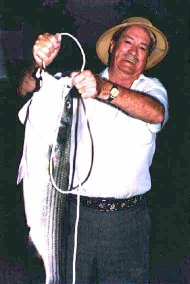 Striped Bass caught in Lake Buchanan
Lake Buchanan is famous for its Striped Bass. You will love fishing here.
At Buchanan Dam you will find a Chamber of Commerce office and visitors' center that can provide you with information on tourists attractions and activities in the area. A museum is also located at the dam.<
Lake Buchanan is located 60 miles northwest of Austin and 95 miles north of San Antonio. It is about 200 miles south of Dallas and Fort Worth and 200 miles west of Houston.
Planning on bringing your boat to the Highland Lakes?