Lake Travis is part of the Highland Lakes chain on the Colorado River in Central Texas. Lake Travis is the fifth lake down, with Lake Austin on the south and Lake Marble Falls on the northwest.
The longest of the six Highland Lakes, Lake Travis winds its way through the Central Texas Hill Country for over 60 miles down into the outskirts of Austin. Lake Travis is 4.5 miles wide at its widest point and has an impressive 270 miles of shoreline.
Like most of the lakes in Texas, Lake Travis is manmade. The reservoir was formed in 1942 after the construction of Joseph J. Mansfield Dam on the western edge of Austin. The dam was created by the Lower Colorado River Authority (LCRA) to address the water needs of the Austin area, but it also ended up providing one of the area's most popular daytime destinations.
Until recently the dam was part of Hwy 620 and traffic drove over the top of it. A large bridge has now been built to route the traffic on Hwy 620 down below the dam.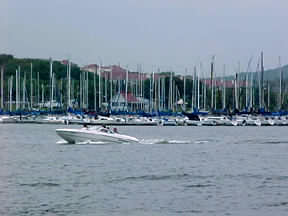 Lake Travis is ideal for all types of boating.
COMMUNITIES IN LAKE TRAVIS
There's a lot of open space around Lake Travis along with a few ranches. For those who want water in their backyard, there are also four communities around the shores of Lake Travis.
Off Highway 620 on the south side of Lake Travis closest to Austin, is the golfing community of Lakeway. It's one of the most well established, family-friendly communities in the Hill Country.
The two communities on the north side of Lake Travis are Jonestown and Lago Vista, another golfing community. Both of these communities are on Highway 1431.
The Joseph J. Mansfield Dam
to the northwest of Austin was
finished in 1941 to form Lake Travis.
On the northwest side of Lake Travis is the community of Briarcliff. It's directly across the lake from Lago Vista, the fourth community in the area. Briarcliff can be reached by taking Hwy 2322 east from Highway 71.
If you're looking for a golfing community or a nice lakeside city for retirement, Lakeway and Lago Vista are both worth considering. Both communities are an easy drive to Austin and its amenities but still offer a tranquil lake lifestyle.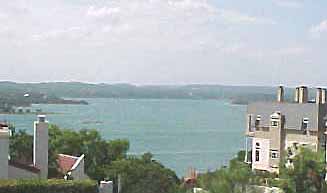 Condos in Lakeway with lake view
There are many beautiful homes, condos and building lots in the communities around Lake Travis that offer outstanding views of the lake and Hill Country. Come for a visit and you may just decide to stay forever!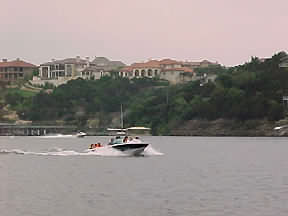 Top Lake Travis Attractions and Activities
If you want to spend your vacation boating, swimming and fishing, then Lake Travis attractions will catch your attention. Tons of fun in the sun is just a short drive from Austin. Some of the most popular Lake Travis pastimes include:
Boating
Sailing
Jet skiing
Scuba diving
Swimming
Water skiing
Wake surfing
Wakeboarding
Lake Travis is ideal for all types of boating. During the spring and summer you can find sailboats, yachts, kayaks, canoes and speedboats all together out on the water. Fisherman can find all the information they need for a sporting excursion at the Texas Parks and Wildlife Lake Travis website.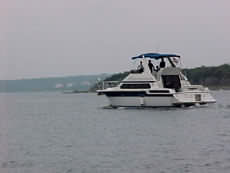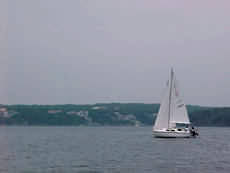 You will see all kinds of boats on Lake Travis.
CAUTION: Lake Travis is not a constant level lake. When the water is low there can be hazards that you need to be aware of like sand bars and limited launch availability. For Lake Travis lake level and weather forecast visit the Lower Colorado River Authority website.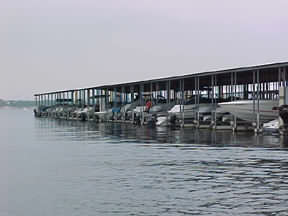 A marina on Lake Travis
For Lake Travis lake level and weather forecast - Click Here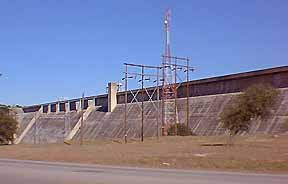 Photo taken from below the dam
Stay on Lake Travis During Your Vacation!
For a real treat and authentic Austin experience you can rent a waterfront house on Lake Travis and get a taste of lake life at its best. Check out the Lake House Rentals page to find available cabins, condos and homes for rent on Lake Travis.
Planning on bringing your boat to the Highland Lakes?
SERVICES AVAILABLE AT INKS LAKE:
White Owl Retreat - Cabin on Lake Travis
This charming cabin is located on 5 beautiful waterfront acres on Lake Travis. This recently, completely renovated cabin has a large covered back porch with a view of the lake, a fireplace and more. Enjoy nature at its best at this delightful cabin.
Spillar Boat Docks - Spicewood, TX - near Austin
If you are looking for a floating dock, deck, boat lifts and personal watercraft lifts, Spillar Boat Docks is the place to call. Their family operated business has been building boat docks since 1945 in the Highland Lakes area.
in the Highland Lakes Area